The legalTech revolutionizing access
to legal information
InteLaw has the largest legal database in Morocco. InteLaw includes several databases for jurisprudence research, doctrine, contracts and official newsletters. InteLaw offers the largest dictionary of Moroccan law. InteLaw has developed the first and only legal chatbot, a true algorithmic intelligence entirely thought and developed for Moroccan law.
Our Bases
Official Bulletin
Includes over 30,000 laws and regulations, published in the Official Bulletin since 1912.

Consolidated Codes
Allows an intuitive search in the laws, allowing their consultation and annotation in three languages. (Ar, Fr, En)

Jurisprudence
Includes more than 20,000 decisions that can be viewed, annotated, and printed in three languages. (Ar, Fr, En)

Smart Contact
Gives access to contracts, in accordance with Moroccan law, categorized according to need, freely downloadable.

Smart Memo
With more than 1,000 questions and answers, a real FAQ for both individuals and professionals

We Are Creative
Contains more than 600 definitions of the terms used by the legislator.

The Oustad (chatbot)
Real legal adviser within reach of clicks. an intuitive artificial intelligence that can give advice and hold a discussion in legal language.

Doctrine
Includes more than 1,000 references of books and legal and academic works.
Our platform
InteLaw is the number 1 of LegalTech in Morocco. InteLaw assumes the right to technology. InteLaw offers state-of-the-art tools for a unique research experience. InteLaw brings together tens of thousands of documents for a complete, accurate and fast search experience.
A platform available in 3 languages (Arabic, French, English)
A full-responsive and user-friendly platform
A platform accessible online and in mobile application
A platform integrating the first and only legal chatbot
A multidisciplinary and passionate team
A platform developed on an API base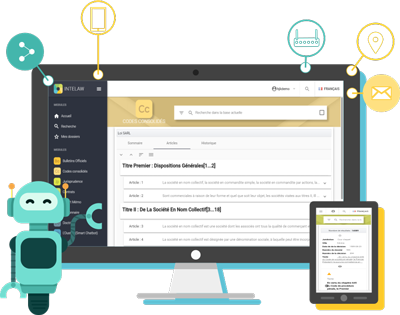 A powerful platform, several tens of thousands of documents
InteLaw is LegalTech's leading legal research platform.
InteLaw will surprise you with its intelligent and ergonomic search options, so you can find all the information you are looking for accurately and quickly.
InteLaw offers an experience suitable for all categories of users whether for legal professionals (lawyers, notaries, magistrates, accountants, bailiffs), legal departments (lawyers, advisors, compliance, etc.). , academics (teachers, teachers, student librarians, doctoral students, etc.).